Here are some of the reasons God puts His people in an isolated position ( see if any of these apply)
Do you find yourself in a season of isolation? Maybe you have been "in hiding" for a while. Maybe for a very long while. And you are wondering why?
You are being tested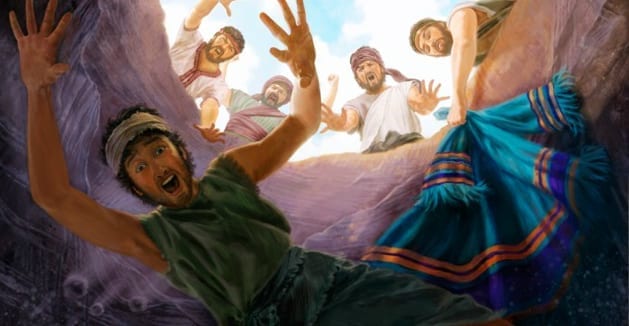 Have you ever been in a situation where you thought you might lose your mind? I'm talking about not being able to get out for a long, long time. I went through a season in my life where I was completely homebound. My future was uncertain and I had to rely on God completely to come through for me, for everything from getting me to the store, and even hustling up a ride to church. It stretched my faith like few things could, and proved to me that I was much stronger than I realized. I remember almost feeling animosity toward the Lord. How could he abandon me like this while the walls were closing in on me. Didn't He care?
Thoughts of divorce, walking down the street to the bar (the only place in walking distance) and other quick fix temptations assailed my lonely and seemingly abondoned heart.
It was during this tough time that I completely surrendered my very sanity to the Lord and , no, He did NOT let me lose my mind. And I did get through.
If you are in a tight spot and feel closed in, even trapped, it could be that God is testing you, to see if you will still be devoted to him. Some people think that their life is not worth living if they don't have the freedom to mix with others. Or if they don't have a family. Or someone to love. Lonely people are often bitter at God for their state, but could it be that God is testing them to see if they will love him… no matter what?
Character development
Sometimes God will separate someone so that He can develop their character. Some new believers that found Christ during a life of crime, later find themselves incarcerated for something they did before they were a Christian. Why would God allow that? I mean, He's God. He can cause prison sentences to be reversed; He could have caused the person to walk away free. But He doesn't always do that because sometimes, He wants to develop that person's character. Stuck behind four walls with nothing but a Bible is a good chance to get to know God better.
The hardboiled personality. 
Hardboiled is a term  used to describe someone who is just hard to deal with. Sometimes, God will put overbearing people "on the shelf" so to speak, to protect others from them. There are many fine people who love the Lord, but their lack of tact makes them very hard to deal with. A lot of strong
Christian leaders were like this, so if this describes you, take heart. Some personality types are so strong, so forceful, that if not left in check, they can cause regular damage. It appears that the Almighty has to put some of these people "on a leash" so to speak, until they are ready to be loosed for a special project or season.
Note: I speak this from experience
You are being protected.
While hardboiled people are often put in isolation to protect others from them, sometimes God will put you aside to protect you. When I was a very young Christian, there were many times that I would feel the hand of God sheltering me by putting me in a state of isolation. Perhaps this meant going without a car for a season. That lack of transportation protected me from the sure temptation of going to some unsavory places that I use to frequent This was temporary, as I later was given a vehicle, after I had matured a bit. Then, there was a season when I was pregnant, and was told I needed to take it easy. Again, I found myself without a car to take me anywhere and everywhere, whenever. What could have appeared as deprivation actually proved to be a blessing. I could sense the Almighty shielding me in and keeping me safe from my own impulsiveness. I got regular sleep, and didn't stay up all night carousing around at various places, all be they wholesome. Finally, there was a time in my life when I was going through a very emotional time. My moods ran back and forth like wild horses. It was during this turbulent season that I found myself once again, without a vehicle. Just as before, I could strongly feel the hand of God shielding me from too much freedom. If you find yourself in a situation where you seem to be "tucked away" from the outside world, it could be that God is protecting you from it.
In addition to protecting you from yourself, there are also times when God may protect a person from real danger out there. Even good, stable steady people have at times been placed in a period of isolation to protect them from malevolent forces around them. It's entirely possible that you would be entirely unsafe if you weren't in isolation. A good example is prisoners who are put in solitary confinement. Could it be that God is actually protecting some of them from something that is about to happen? There is no telling. Not until we get to heaven will we fully know all of the times that God has protected us from the forces of evil.
Training and instruction
Moses went up into the mountain for forty days, and it was there that he received the Ten Commandments. He also received the law, which included lots of rules and regulations but he wouldn't have got all of this if he had not separated himself and gone up into the mountain. Sometimes God separates us for a season so that he can train and instruct us.
Being taught contentment
Is God really enough? Can you endure a season of isolation or loneliness without being bitter? Can you learn to rest everything in God's hands believing that He is in control and that He knows what's best? If you can, then you will have learned how to be content in every situation.Remember, Job? He's the guy in the Bible who had everything taken from him…his car, (no, not really….his camel) and his livestock, his family (except a nagging wife… he got to keep her). God was testing him. Satan and God had this discussion where he told God that Job only served God because he had been so blessed by Him. The text reveals that Job was going through a time of testing to  prove to Satan that God had a people who knew that their God was really enough.
Preciousness
Has it ever occurred to you that God is hogging you all to Himself? What an honor! Isolation provides us with plenty of time for intimate fellowship with the Creator. Will this season last forever? Will the honeymoon season of isolation have an end? Who knows…enjoy it while you can!
You are needed or maybe, where you are is where you are supposed to be. A family or responsiblity might need you right where you are
The "I don't know file"– Let's face it…like Job, sometimes we just don't know and we never will. God has a big "i don't know file" and it's sealed. But one day maybe we'll get to read it. Dump it there and don't worry about it.
Climatic adjustment
It takes time for a goldfish to adjust to its surroundings. If you feel trapped in a sandwich baggie, floating in the sea of uncertainty, don't fret…you may be getting acclimated to the environment before being dumped in.
You need to move on
Are you certain that there is nothing you can do to get out of your tight space? If you are restless, it may be more than an unsubmitted heart or the protecting, nurturing hand of God; instead, your restlessness could be God's way of prodding you to move on. Pray, and then withdraw and analyze. Maybe you do have options and aren't exercising them.